HOTEL BOOKING TERMS
Welcome to Authentic Hanoi Boutique Hotel! By making a reservation through our website, you ("Guest") enter into an agreement with Authentic Hanoi Boutique Hotel ("Hotel"). Please familiarize yourself with the following terms and conditions that govern your stay at our hotel.

1. Reservation and Jurisdiction:
a. Reservations made on our website are subject to the local terms and conditions set by Authentic Hanoi Boutique Hotel.
b. The reservation is subject to the laws of Vietnam, and any legal matters arising from it will be under the exclusive jurisdiction of the courts in Vietnam.
2. Reservation Changes and Cancellations:
a. Authentic Hanoi Boutique Hotel reserves the right to modify or cancel reservations at its sole discretion for any reason.
b. The Hotel is not liable for any third-party costs, claims, liabilities, or expenses incurred by the Guest related to transportation, communication, insurance, or other services.
3. Room Rates and Policies:
a. Different terms, conditions, and cancellation policies may apply to each promotion and room type. Please carefully review the provided room rate details before making your reservation.
b. After completing your booking, you will receive an on-screen confirmation reference number and an email with your reservation details. Please keep these for reference.
4. Cancellation and Confirmation Requirements:
a. To cancel your reservation, you will need the confirmation reference number provided at the time of booking and the guest's last name used for the reservation.
b. Our liability for death, personal injury, negligence, or fraudulent misrepresentation is not limited or excluded under these terms and conditions.
5. Currency Conversion:
a. Currency rates provided on our website are for reference purposes only and based on publicly available sources.
b. Room rates are guaranteed only in the local currency of Authentic Hanoi Boutique Hotel.
c. While we believe the currency information supplied is accurate, we do not warrant or guarantee its accuracy.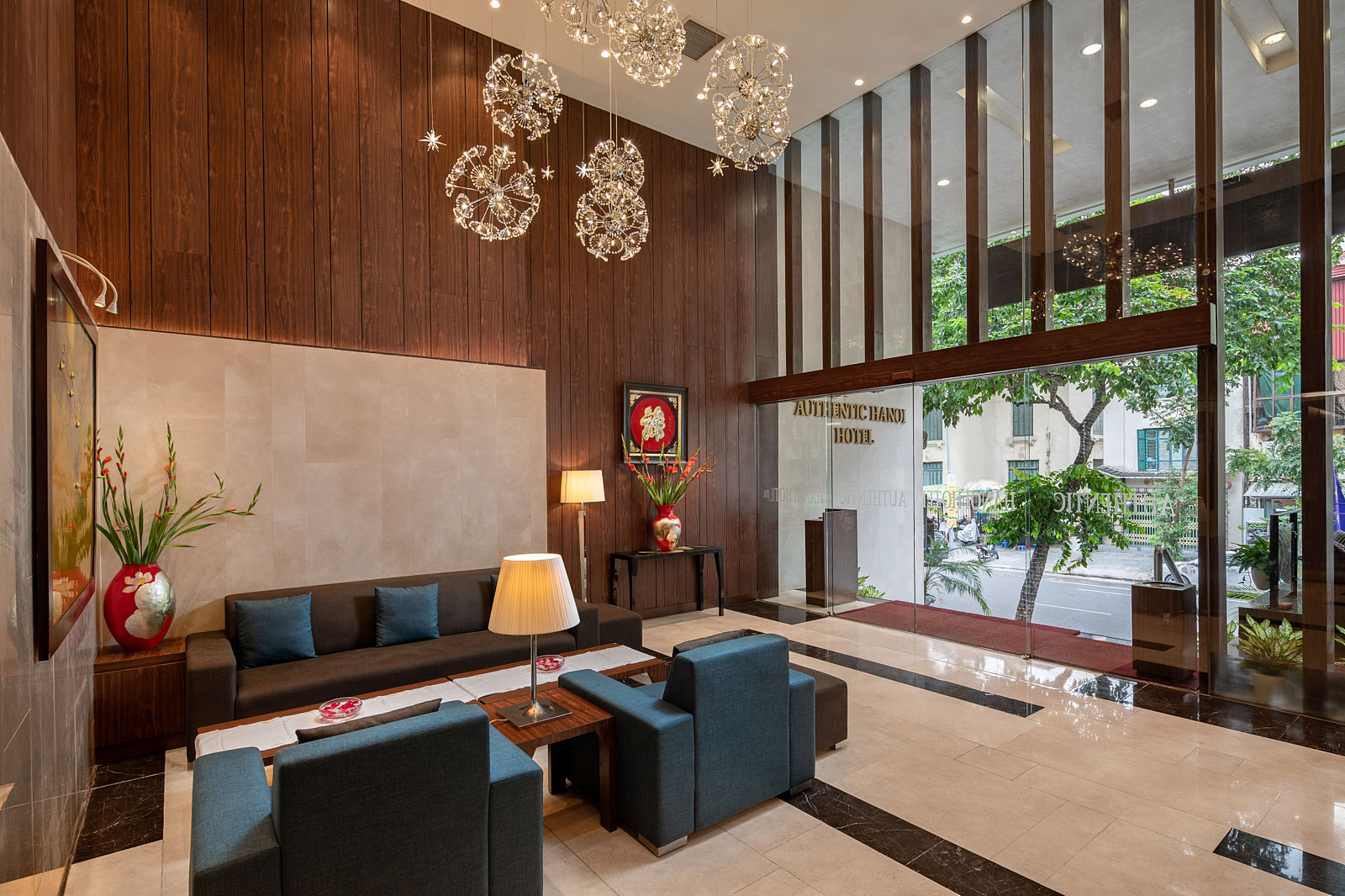 BOOKING TERMS & CONDITIONS
Payment Policy:
a. Payments made using Visa, Mastercard, or American Express cards are exempt from additional fees.
b. All promotional rates include VAT tax and 5% service charges.
Check-in/out Policy:
a. Check-in time is from 14:00.
b. Check-out time is 12:00 noon.
Late Check-out Policy:
a. Late check-out is subject to room availability.
b. A 50% surcharge applies for late check-out from 12:00 noon - 17:00, subject to room availability.
c. Full charge applies for late check-out after 17:00
Early Check-in Policy:
a. Early check-in is subject to room availability.
b. A half-day charge applies for early check-in after 09:00.
c. A full-day charge applies for early check-in before 09:00.
Guarantee Policy:
a. A valid credit card is required to make a reservation.
b. For credit card reservations, the same card(s) must be presented upon check-in.
c. The Hotel reserves the right to cancel reservations without notice in cases of fraud or illegal activities associated with full payments.
Children Policy:
a. Children below 6 years old can enjoy a complimentary breakfast when sharing a bed with parents.
b. Children from 6 to 12 years old can share existing beds with parents, with a surcharge of 50% of the adult rate for breakfast.
c. Children above 12 years old are considered adults. An extra bed is provided at a rate of 500,000 VND/night.
d. Extra person is applicable at a rate of 250,000 VND/pax/night, including breakfast.
Cancellation/Amendment Policy:
a. Cancellations or amendments made 72 hours prior to the arrival date incur no fees.
b. Cancellations or amendments made within 72 hours, including reservations made within that time, will be charged the first night's room rate and tax.
c. No-shows will be charged 100% of the room rate and tax.
d. Promotion rates (Early Bird/Long Stay/Last Min/Package) are non-changeable and non-refundable.
e. The refund process may take approximately 7 to 20 working days, depending on the intermediary bank.
Complaints or Comments:
a. We value guest satisfaction. Please address any complaints or comments to the duty manager during your stay for immediate resolution.
b. If the issue cannot be resolved on-site, please submit a written notification to the Managing Director at
gm@authentichanoi.com.vn
.
TERMS
About You:
By agreeing to these Terms, you confirm the following:
a. You are at least 18 years old and have the legal authority to agree to these Terms.
b. If you are below 18 years old, you must obtain consent from your parent(s) or legal guardian(s) and their acceptance of these Terms. They are responsible for your actions and compliance with these Terms.
Website Usage:
Like most commercial websites, we log traffic to and from our website for analytical purposes. This information helps us understand guest behavior and improve the website's content and navigation.
Thank you for choosing Authentic Hanoi Boutique Hotel. We look forward to providing you with an exceptional stay. If you have any further questions, please feel free to contact us.